---
Grace Millennium reflects a shifting paradigm through the art, interviews, poetry and other writings of Northern California women. In its pages, extraordinary experiences of ordinary women reveal the transformational power of grace in these exciting and challenging times.
As a continuation of the publishing project begun over three years ago as Sojourn, both in print and on the internet, we are beginning afresh in the new millennium with an expanded vision and outreach. This endeavor depends on YOU in order to continue and flourish. If you feel part of the Grace Millennium community, now is the time to let us know. Submit your writings, art and comments; advertise, subscribe, become a sponsor or volunteer. Our plans for an international website opens our invitation for visioning and exchange to men and women from around the globe.
This issue focuses on death and renewal. It covers a range of topics: the restoration of an old-growth redwood barn, tribal repatriation, the survival of the Eel River, natural death care and burial practices, a sacred music recording made inside a Maltese temple and more. This issue also features two women artists--Marie Wilson, surrealist painter from Oakland and Dani Burch, clay artist from Potter Valley.

Jerri-Jo Idarius, editor
LETTER TO THE WOMEN OF THE WORLD! by Moma De Louvre
POETRY

RENEWAL
by Marcella Ries, Ukiah

WHEEL IN HER HAND
by Alethea Eason, Clearlake Oaks








---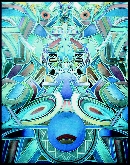 COVER ARTIST: MARIE WILSON, Oakland
Interview by Susan Moulton & Commentary by Susan Foley, Sebastopol

THE SURREALIST MOVEMENT:
Notes by Susan Foley and Jerri-Jo Idarius

MENDOCINO COUNTY
INTER-TRIBAL REPATRIATION PROJECT:
Interview with Polly Girvin, Redwood Valley




THE "HOLY COMMITTEE:"
Performing the Jewish Tahara
Group interview with Zena Marks, Cloverdale, Katarzyna Rolzinski & Helen Sizemore, Ukiah. Introduction by Eva Strauss-Rosen, Willits




GOOD MORNING, BEAR
by Marilyn Hagar, Mendocino


DEATH, MY TEACHER:
Interview with Artist Dani Burch, Potter Valley


A PIECE OF RURAL HISTORY AND A STORY OF RENEWAL
by Katrina Reichert, Potter Valley


STANDING IN THE LIGHT OF DEATH'S DOOR
by Catherine Joan Hart, Ukiah